Walking and Cycling from the Farm
There are some wonderful walks and cycle rides from the farm.
To Ashford-in-the-Water
Follow the drive towards Churchdale Hall and then follow the footpath through the fields to Ashford-in-the-Water. Ashford has a tea room and a pub. Visit Sheepwash Bridge and then you can either return via the Monsal Trail (approx. 2 miles) or for a longer circular walk carry on walking along the river to Bakewell and return on the Monsal Trail (approx. 6 miles).
To Bakewell on the old drovers path
Walk down the drive and turn right on the Monsal Trail towards Hassop Station and Bakewell Station. After about half a mile leave the track and join an old sheep drovers path and walk over the hill to Bakewell. The views are lovely.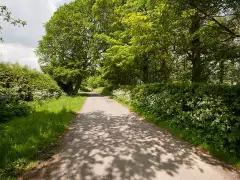 To Great Longstone
Walk down the drive and though the lovely meadow to the village of Great Longstone where there are 2 excellent pubs. (approx. 1 mile to the village).
Monsal Trail towards Hassop Station
Join the trail at the bottom of the drive and walk or cycle about a mile to Hassop Station. Hassop has a Cycle Hire, lovely café and a gift shop. Walk another mile and you arrive at the old Bakewell Station. Walk down the hill past the showground and cattle market into Bakewell.
Monsal Trail and Monsal Head
Join the trail and turn left and after a mile and a half a mile you reach the old railway tunnels which have recently been re-opened, They are lit during daylight hours by solar energy. When you walk out of the tunnel you will be standing on the old Monsal Head Viaduct. You can either leave here and walk up the hill to Monsal Head or carry on along the trail for another 5 miles or so to Wyedale. This is very popular with cyclists.

Photography
We have teamed up with local well known landscape photographer Chris Gilbert to offer photographic breaks. These include a full days tuition with Chris, including a packed lunch, tailored to your specific interests. His latest speciality is to teach you how to make the most of the camera on your Smart Phone.
Derwent Edge