Eating Out
There are a wide variety of excellent places to eat out in this area from cafes and pubs to bistros and restaurants.
Pubs and Gastro Pubs - Our Favourites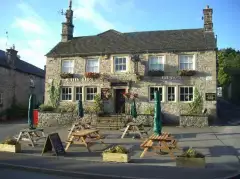 The White Lion, Great Longstone
Chris and Jen took over the pub during the Covid Lockdown. We wish them every success with this Peak District Pub offering chef prepared pub food in stylish and relaxed surroundings.
Website: http://www.whiteliongreatlongstone.co.uk
Phone: 01629 640252
The Chequers Inn, Froggatt Edge
This pub, owned by Jonathan and Joanne Tindall has won many awards. Good gastro pub, innovative cuisine using locally sourced produce.
Website: http://www.chequers-froggatt.com
Phone: 01433 630231
The Prince of Wales in Baslow Village
The Prince of Wales offers contemporary décor in an old village pub offering cooking using local ingredients.
Website: http://www.princeofwalesbaslow.co.uk
Phone: 01246 583880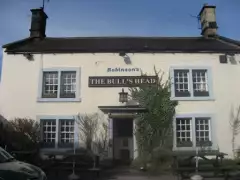 The Bull's Head, Ashford-in-the-Water
Beautiful 17th century coaching inn with roaring log fires for the winter months and a sheltered beer garden for the long summer days. Serves good pub food and a wide selection of cask beers.
https://www.robinsonsbrewery.com/pubs/bulls-head-ashford-in-the-water/
Phone: 01629 812931
The Woodyard, Bakewell
This modern european restaurant has recently opened in Bakewell in an old converted mill. Extensive menu, lively atmosphere .
Website: http://www.thewoodyardbakewell.com
Phone: 01629 690140
Devonshire Arms at Baslow
This pub has recently been totally refurbished. It boasts 'Good Honest Food – all prepared in house' The back of the pub has been converted into a Tea Room.
Website: https://devonshirebaslow.com
Phone: 01246 582551
The Packhorse Inn, Little Longstone
Historic pub, frequented by the locals for a drink at the end of a busy day. Open fire, real ales and pub food. Muddy boots and children welcome. Thursday evening is quiz night, this is a great fun evening for all ages.
Website: http://www.packhorselongstone.co.uk
Phone: 01629 640471
Fine Dining
Fischers at Baslow Hall
Fischers is renowned for its fine food and they are passionate about using local products. In the summer your meal can be enhanced by having a pre-lunch drink in their stunning garden. For a special occasion they offer the ultimate dining experience, the Fischer's Kitchen Tasting Bench for 2 to 4 people.
Website: http://www.fischers-baslowhall.co.uk
Phone: 01246 583259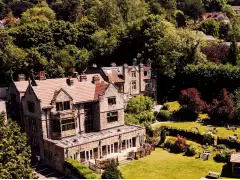 The Maynard at Grindleford
This country hotel, overlooking the valley, underwent an extensive renovation in 2020 and is run by Rob Hattersley. It offers a range of eating options from the garden, to the bar and the restaurant. The ethos of the chef is to serve fresh locally produced food.
Website:https://the-maynard.com
Phone: 01433 424110
Rafters at the Riverside House Hotel
This Country House Hotel on the banks of the River Wye in Ashford-in-the-Water has recently be taken over by Rafters of Sheffield. They specialise in a Tasting Menu and have recently been awarded 2 AA rosettes. Open Thursdays to Sundays.
Website: www.riversidehousehotel.co.uk/restaurant
Phone 01629 814275
Piedaniels, Bakewell
Excellent French restaurant is in the heart of Bakewell. Imaginative menu with tasty food, open Wednesday to Saturday evenings and lunch time on Saturday.
Website: http://www.piedaniels-restaurant.com
Phone: 01629 812687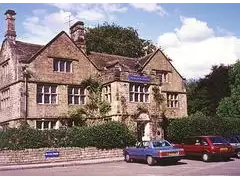 The Peacock at Rowsley
This picturesque old coaching inn is owned by Lord Edward Manners and is part of the Haddon Hall Estate. The head chef is Dan Smith and he previously worked with Tom Aitkens in London.
Website: http://www.thepeacockatrowsley.com
Phone: 01629 733518
Tea Rooms
Hassop Station Café on the Monsal Trail
This is a gem. Walk along the Monsal Trail for about 20 minutes to the café. Wonderful coffee, snacks and salads. Open 9am to 5pm, many of guests enjoy having breakfast in the café.
Website: http://www.hassopstation.co.uk
Phone: 01629 815668
Aisseford Tea Rooms, Ashford-in-the-Water
Stroll through the fields to the village and enjoy a cup of tea and home made cake at the tea rooms; upstairs is a gift shop. It opens 7 days a week.
Phone: 01629 812773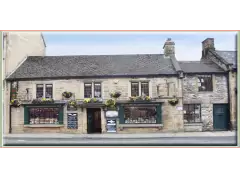 The Old Original Bakewell Pudding Shop
In the heart of Bakewell the Pudding Shop has an excellent café of the first floor where you can enjoy a traditional pudding with a cup of tea. If you are very hungry there is an extensive snack menu.
Website: http://www.bakewellpuddingshop.co.uk
Phone: 01629 812193