Activities within 5 Miles
Chatsworth
Chatsworth, home to the Dukes of Devonshire for over 350 years, is one of the most outstanding tourist attractions in England. The house contains one of the finest art collections in the country. The park was laid out by Capability Brown and the farmyard is very popular with children. Public Footpaths criss-cross the surrounding parkland and moors which give outstanding views of the Peak National Park.
Website: http://www.chatsworth.org/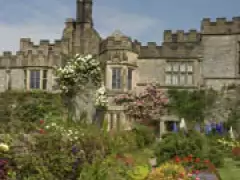 Haddon Hall
Haddon Hall is the finest example of a medieval manor house currently in existence in England. It has been in the ownership of the Dukes of Rutland since the reign of Elizabeth I and overlooks the River Wye. As it has hardly been altered since the end of the 16th Century, it is a perfect filming location and it has recently been the setting for Jane Eyre. During 2023 the House will be open between 1st April and 24th September.
Website: https://www.haddonhall.co.uk
Hassop Station
Hassop Station adjoins the Monsal Trail at Hassop, a one mile walk from the cottages. Occupying a large site, the Old Railway Station Building now incorporates a Cycle Hire, Cafe, Bookshop and Gift Shop.
Website: http://www.hassopstation.co.uk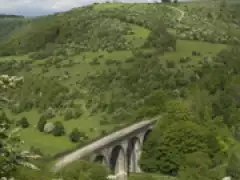 Monsal Head and Monsal Trail
The Monsal Trail, the route of the former Midland Railway, can be joined at the end of our drive. The old tunnels have been re-opened to enable walkers and cyclists to travel 11.5km to Chee Dale. Monsal Head is a famous viewing spot overlooking the Monsal Dale and the viaduct.

Ashford-in-the-Water
Ashford-in-the-Water is regarded as one of the prettiest villages in Derbyshire. The medieval bridge is said to be the most photographed bridge in England. The village was mentioned in the Domesday Book under the name of Aisseford, meaning 'ford of the ash' . There is a village shop, a pubs, a hotel offering fine dining, tea room and pretty church.
Bakewell
This old market town, famous for its puddings, is just
2 ½ miles from Churchdale. It has a traditional Monday cattle and sheep market and many other stalls for people to browse. It is also home to the Old House Museum which is close to the 11th century Church.
Thornbridge Hall Gardens
Enjoy 12 acres of garden in 'a thousand shades of green' Just a short walk along the Monsal Trail, open every day
Website: http://www.thornbridgehall.co.uk